Dental Crowns price in Kathmandu Nepal
The price of a dental crown in Nepal is determined mainly by the material of the crown. That's why when seeking a price for a dental crown, you will likely get a quote of the price range. Materials used to make the tooth crown mostly determine the cost followed by the location and complexity of a case.
When a natural tooth's surface breaks, discolors, or becomes weak, an artificial tooth cover is placed to prevent further damage.
Types of dental crowns in Nepal: 3 main types
Metal-ceramic Dental crown
Lithium disilicate Dental crown (Porcelain/ All-ceramic crown/Emax crown)
Zirconia Dental Crown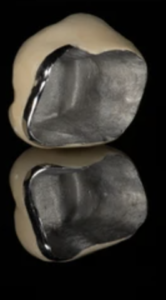 Porcelain Fused to Metal Crown
These crowns are also known as Metal-ceramic crown. It has an inner core of metal and Porcelain material is glazed over it.
Metal-ceramic crowns are strong but they tend to give a grey hue to the gums hence is not the best choice for front teeth.
The cost of Metal ceramic crown is Rs 10,000/-
Lithium Disilicate (Emax) Dental Crown
These are metal-free porcelain crowns with greatest aesthetics. Being metal-free, Porcelain crowns offer a more tooth-like appearance because of their translucency than PFM crowns.They are an excellent choice for front teeth.
The cost of Porcelain Dental crown is Rs 20,000/-.
Zirconia Dental Crown
Zirconia crowns has the strength of metal and esthetics of ceramic crown. They are very durable. Full-contour zirconia is ideal for back teeth and multi-layered Zirconia is suitable for front teeth.
These are the most expensive type of dental crown. The price for Zirconia dental crown can range from Rs 22,000-25,000/-
Dental Crown procedure is a relatively simple process that generally takes two appointments to complete. However, if the tooth to be treated is broken or is below the gum surface, a longer procedure will be needed.
1st visit: x-ray, tooth reshaping and temporary crown installation
2nd visit: the temporary crown is removed and permanent crown is cemented.
Dr Hema Jha is a licensed dentist with over a decade of experience. Dr Jha earned her BDS degree in 2005 from B.P.koirala institute of health sciences and her MDS in Prosthodontics and Implantology in 2012 from Tongji Medical College.
Shangrila Dental Clinic
Bhatbhateni Tangal