Dental Clinic in Kathmandu Nepal
Dentist in Kathmandu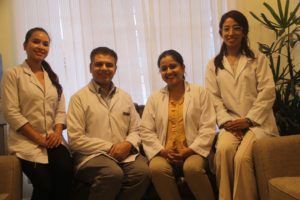 Have you been looking for a dental clinic near you in Kathmandu Nepal? Whether you  just want a routine dental checkup or a more elaborate cosmetic smile makeover, Team Shangrila are here to help.
From general family dentistry like cleaning, filling, braces to cosmetic smile  makeover and dental implants, we have what you need. Bring your whole family, we'd love to see patients of all age groups from kids to those in their senior years. The experienced and qualified dental team treats patient as individual with unique needs. Know more about our team and learn why to choose us here.
We ensure that we can have the best of everything for our patients. Because our real goal is doing dentistry at the highest level. We are trying to provide the absolute best in what we do.
Our specialists are graduates of the best university in Nepal and they have taken masters degree and several other courses from the very reputable International Universities.
We invite you to schedule a visit with us today to find out how we can help you find your way to better oral health.
We have conveniently located  ground floor dental clinic in Kathmandu Nepal near Bhatbhateni Naxal to serve you.
Call us today.
Our office is open from Sunday- Friday
from 10:00 am- 6:00 pm
We look forward to working with you!
Tourists with us for their dental care needs
Our Advantages
Internationally Trained Experienced Dentists
With over 15 years of dental experience, we are experts in all facets of dentistry.
Personalized Care Using Innovative Technology
We deliver patient care in a comfortable and gentle manner.
Comfortable Anxiety-free Experience
Communicating clearly before what to expect during your treatment, We are experienced enough to help alleviate your anxiety .
Transparency In Cost
The prices for treatment are same for National and International customers.
Our Happy Clients
The clinic is well equipped with latest technology and the Dr. Hema was very knowledgeable ,professional, kind and patient, taking the time to explain to me everything. From now on Shangrila Dental will be my new dental clinic in Kathmandu instead of the other one I used to go that is popular with expats. Highly satisfied with the service. Definitely worth recommending to everyone
I highly recommend Shangrila dental and their services. I have experienced the delightful service, which is very rare in dental clinics in Nepal. Doctors along with support staff were helpful and very pleasant. I would like to appreciate the work of Dr. Hema, she is a true professional.
Per pura fortuna ho conosciuto la dottoressa che ha risolto il mio problema con molta professionalità.
La Consiglio.
Italy
The best dental experience I 'v ever had. The booking and treatment were simple but effective. The staff is attentive and I got some welcome helpful hints on how to improve my oral health. They even helped organize my ride to my hotel.
I will definitely go back if I need more dental work done in Kathmandu
Canada