Lingual (hidden) Braces
Fixed to the back of the teeth that is why these are also known as hidden braces.
Dental Clinic in Kathmandu, Nepal
Dentist in Kathmandu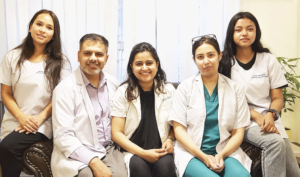 Are you looking for a good dental clinic near you in Kathmandu, Nepal? Whether you need general dentistry services like teeth cleaning, fillings, and braces or more elaborate cosmetic smile makeovers and dental implants, we are here to help. Know more about our team and why to choose us?
Shangrila Dental Clinic was established in Kathmandu in the year 2014.  The owner duo of Prosthodontist-Orthodontist is backed by years of experience practicing dentistry in different dental hospitals of Nepal. Since its inception, the clinic has been serving not only the local Nepalese community but foreigners as well.   The clinic's mission is to "attempt excellence in dental care service on a daily basis". Hence, the highly-trained dental team is working hard each day to provide top-quality dental care in Nepal.
We have a conveniently located ground-floor dental clinic (near Tangal Bhatbhateni) in Kathmandu, Nepal to serve you. We accept local as well as international cards.
Contact Us Today!
We look forward to working with you!
International Clients with Nepali Dentist
Our Advantages
With over 15 years of dental experience, we are experts in all facets of dentistry.
The dental clinic is located opposite to the oldest Bhatbhateni store so your family can shop while you are getting your smile fixed.
Transparency In Cost
The prices for treatment are same for National and International customers.
Our Happy Clients
Best hospitality and everlasting care by Shangrila Dental thank you so much for all your humble response. totally satisfied
Banker
Online Appointment For Dental Treatment