Dental Clinic in Kathmandu Nepal
Dentist in Kathmandu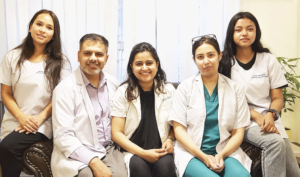 We provide general family dentistry like cleaning, filling, braces to cosmetic smile makeovers, and dental implants. Bring your whole family, we'd love to see patients of all age groups from kids to those in their senior years. The experienced and qualified dental team treats patients as individuals with unique needs. Know more about our team and why to choose us.
We ensure that we can have the best of everything for our patients. Our real goal is to do dentistry at the highest level. As a result,  we are trying to provide the absolute best in what we do.
Our specialists are graduates of the best university in Nepal. In addition, they have taken master's degrees and several other courses from very reputable International Universities.
Schedule a visit with us today to find out how we can help you find your way to better oral health.
We have a conveniently located ground-floor dental clinic in Kathmandu Nepal and it's near Bhatbhateni Naxal to serve you.
Contact Us Today!
Our office is open from Sunday- Friday
Sunday, Monday, Tuesday, Thursday, and Friday 10:00 am- 6:00 pm
Wednesday 10:00 am- 2:00 pm
We look forward to working with you!
International Clients with Nepali Dentist
Our Advantages
With over 15 years of dental experience, we are experts in all facets of dentistry.
We remove wisdom tooth surgically in a comfortable and gentle manner.
Our dental clinic only uses premium quality of dental implants to restore your tooth.
Transparency In Cost
The prices for treatment are same for National and International customers.
Online Appointment For Dental Treatment
Dental Clinic location in Kathmandu